2019 Nissan Titan Towing Capacity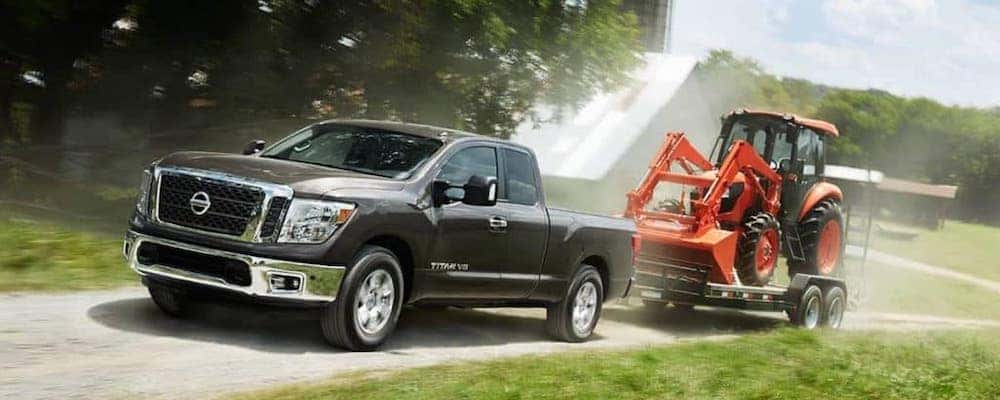 The first thing you should know about the 2019 Nissan Titan is that the lineup actually consists of two different pickups! The first is the standard consumer-focused model, which can tow up to 9,660 pounds with a single cab. The second is a high-powered variant designed for the Lincoln job site, and designated by the letters XD. Opt for this version to reach the maximum Nissan Titan towing capacity of 12,710 pounds.
2019 Nissan Titan Towing and Performance Specs
Both the Titan and the Titan XD come standard with the same engine, a 5.6L ENDURANCE® V8 gas engine with 390 hp and 394 lb-ft of torque. If you stick with the base model, your Titan towing capacity will vary as follows:
Titan with 4×2

With Crew Cab – 9,380 pounds
With King Cab – 9,450 pounds
With Single Cab – 9,660 pounds

Titan with 4×4

With Crew Cab – 9,240 pounds
With King Cab – 9,250 pounds
With Single Cab – 9,540 pounds
However, if you want to enjoy the very best that the Titan can bring to the roads near Omaha, you'll need to upgrade with the Titan XD and its available 5.0L CUMMINS® turbocharged diesel engine. With the latter, you'll enjoy 310 hp and up to 555 lb-ft of torque, and dramatically improved towing power:
Titan XD with 4×2

With King Cab – 12,480 pounds
With Single Cab – 12,710 pounds

Titan XD with 4×4

With Crew Cab – 11,960 pounds
With King Cab – 12,120 pounds
With Single Cab – 12,430 pounds
Available gooseneck towing equipment, Nissan Intelligent Mobility™, and Trailer Light Check technology, it's easier than ever to hook up your cargo and get moving on the roads near Fremont. These are just a few of the unique Nissan Titan towing features.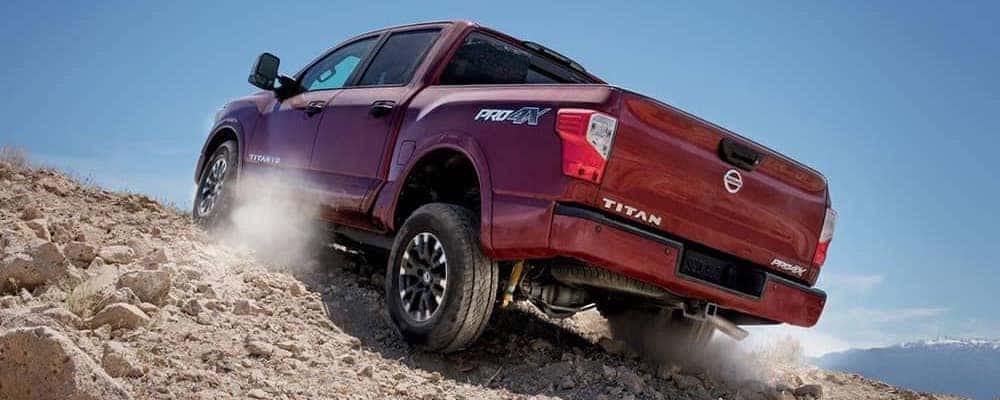 2019 Nissan Titan Payload Specs and Bed Dimensions
Of course, you're not going to hook up a trailer every time you head out on the roads near Blair or Wahoo. Sometimes, you're going to want to throw your cargo in the bed and get on the highway as soon as you can! Here's what you should keep in mind:
The maximum Titan payload capacity will vary depending on the cab you select, but if we assume you opt for the Single Cab, it'll top out at 1,930 pounds in the Titan, and 2,990 pounds in the Titan XD! The other cabs are slightly heavier, so if you'd like to carry more passengers, a lower payload capacity will be the trade-off.
The Titan offers three bed-size options, and each is paired with one of the three available cabs. The Single Cab comes with a 98.5-inch bed, while the Crew Cab features a 67-inch truck bed.
The Titan XD offers two different bed sizes: A 78.7-inch option (with both the Crew and the King Cabs) and a 98.5-inch bed with the Single.
Like all modern trucks, the Nissan Titan offers numerous unique and useful features to help you take full advantage of its truck bed! Some of our favorites include:
Lockable bed storage
Utili-track® multi-channel system
120-V in-bed power outlet
LED bed lighting
Find Your 2019 Nissan Titan with Sid Dillon!
Now that you've seen how the 2019 Nissan Titan towing capacity can help to revolutionize your daily drives, we know you'll be eager to check it out in person. Explore our new Nissan inventory to find a Titan or Titan XD for sale near you! Once you've found the perfect model, just reach out to schedule your test drive.
Before you visit, check out the 2018 Titan towing capacity to find out how much has changed in the last year! You'll definitely want to check out our rotating selection of truck specials, too. If you're still exploring your truck options, take a look at the towing capacity of the 2020 RAM 1500.
Latest on Nissan Trucks from Sid Dillon
If you're in the market for an SUV that can keep up with all of your adventures, the new 2023 Nissan Rogue is worthy of serious consideration. This SUV is designed to provide exceptional cabin comforts and rugged capabilities to ensure every drive from Omaha to Lincoln feels like an automotive dream come true. Review…

The 2022 Nissan Pathfinder is a full-size, eight-passenger behemoth that manages to offer plenty of style and efficiency to go with its generous dimensions. While the cabin serves up plenty of seating for friends and places to store your gear, sometimes you need to move more than what your interior can hold. Whether you're moving…

If you are looking for a subcompact SUV offering the latest in luxury, then look no further than the 2021 Nissan Kicks. You and your family are guaranteed to ride in style and comfort, whether you are running errands around Omaha or taking a vacation outside Fremont. The 2021 Nissan Kicks interior features brim with…