Ford Certified Collision Repair
At Sid Dillon Auto Body, our Lincoln location can provide full-service collision repairs if you've recently been in an accident. Our services also include Ford Certified collision repairs for all Ford vehicle models. We have the ability and training to repair your Ford back to its original factory-build safety standards and appearance.
SCHEDULE MY FORD AUTO BODY REPAIRS – CLICK HERE OR
CALL OUR LINCOLN LOCATION – 402-464-6500
What does it mean to be a Ford Certified Collision Repair Facility?
Being certified means, we have met the challenge of meeting the requirements from Ford to repair their vehicles the way they intended. We use original Ford replacement parts, and our I-CAR certified technicians have been trained on the latest repair standards for all Ford cars, trucks, and SUVs. Plus, we have certification for aluminum auto body repairs, too.

SID DILLON AUTO BODY
2627 Kendra Lane
Lincoln, NE 68512
We have upgraded and invested in the proper tools, equipment, and training so you can have peace of mind that your Ford is safe to drive and will hold its value. Even after an accident. After all, we want you to enjoy it for years to come!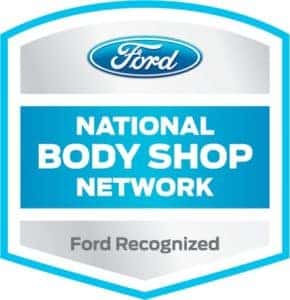 Our Ford Certified Collision Repair Service Includes:
Lifetime Warranty on ALL Repairs
Original Ford Replacement Parts
Ford Aluminum Certified Auto Body Repairs
Computerized Factory Match Paint & Refinish
I-CAR Certified Repairs
Maintain Original Factory Warranty
We also offer additional services to help during this stressful time. We can help with your insurance claim, set up a loaner vehicle, and can even help if your vehicle needs to be towed! Just give us a call today to discuss our services – we want to provide you with an outstanding collision repair experience!
Ford Aluminum Certified Collision Repair
We have been providing the drivers of Lincoln & Omaha with the highest quality of auto body repairs for over several years. No other local body shop cares more for your car than we do! Our Lincoln facility is outfitted with the most advanced and state-of-the-art equipment and can work on any amount of collision damage.
Give us a call today to schedule your Ford Certified collision repair estimate or speak to a member of our team – we are ready to help if you need us!
We greatly appreciate your consideration and look forward to serving you!