Are you in need of paintless dent repair?
Sid Dillon's state-of-the-art collision repair facility in Lincoln offers a service that can bring the dent and dings out of your vehicle without full collision services.
We know how annoying getting those parking lot dings, and door dents can be. You think you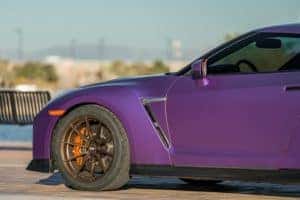 have to take it in for collision repair, leave it there, have it repainted and much more. With Paintless Dent Repair, that's not the case.
Bring your vehicle to our Lincoln location and we'll show you the magic of PDR. Using specialized paintless dent repair tools and our skilled PDR technicians, we can make those dents go away by just massaging them out.
What is paintless dent repair?
The PDR process requires our trained technician to basically push out each dent by massaging it in a technical and precise manner. Each dent is worked back to its original shape from the underside of the panel resulting in a factory looking finish once again. No painting or replacing of the body panel is needed. This is commonly used for hail damage repair Lincoln.
PDR is less costly and less time-consuming than a full auto body repair. We can usually get your car in and out in just one day. Why? This process eliminates even having to repaint the area worked on. This will not only save you time, but money too. Your car will look beautiful without all the hassle.
Why use our Sid Dillion Lincoln Paintless Dent Repair (PDR):
No need to repaint the area.
Original paint finish stays smooth.
Environmentally friendly repairs.
No need for full collision repair.
Saves Time and Money.
Works like Magic!
Cleanliness, along with safety, is our top priority. For our customers and staff's safety, we've incorporated thorough cleaning and sanitization into our routine both before and after repairs. Our technicians wear protective gear during the repair process and place protective coverings on the vehicle before returning it.
If you're interested in Sid Dillon's paintless dent repair in Lincoln, give us a call or make an appointment. We'll be glad to take a look and go over just how we use PDR, give you an estimate and schedule your appointment.
We value your opinion and make it a point to honor your insurance policy and complete only the repairs you prioritize for that visit.
We are grateful for the opportunity to do business with you. Give us a call Monday through Saturday to make an appointment, or conveniently book one using our free Virtual Online Tool.