How Often Should You Rotate Your Tires?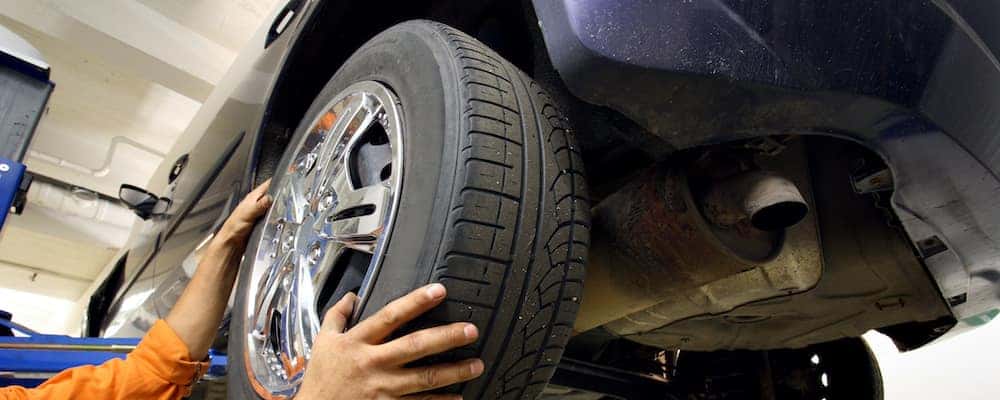 It's recommended that you rotate the tires on your vehicle every 5,000 to 7,500 miles. That being said, it's a good idea to check your owner's manual to confirm exactly what's recommended for your car, truck, or SUV. Learn more about tire rotation in this guide, then schedule a service appointment at your local Omaha area Sid Dillon service center. You should also have an alignment done when replacing your tires.
Rotating Tires on FWD and RWD Vehicles
In a front-wheel drive vehicle, the power is sent to the front tires, while in a rear-wheel drive vehicle it's sent to the rear tires. The set of tires that receive the direct engine power will wear faster than the others. Here are a few rotation tips for FWD and RWD vehicles:
Tire rotation should be performed every 5,000 to 7,500 miles, but consult your owner's manual to confirm.
When rotating FWD tires, the rear right tire will go on the front left. However, when moving the front tires to the back, keep them on the same side.
When rotating tires on a RWD car, invert the process above. Flip sides when moving the front tires to the back, but keep the rear tires on the same side when moving them forward.
Your driving habits will affect how often you need to rotate your tires. Talk with the service experts at Sid Dillon to set up a maintenance schedule that fits your driving style.
AWD Tire Rotation Tips
Most experts recommend that you rotate the tires on your AWD vehicle every 3,000 to 5,000 miles, but again, check your owner's manual to find the recommended schedule for your specific vehicle. If you're unsure whether your vehicle is due for a tire rotation, bring it into one of the Blair, Fremont, or Lincoln area Sid Dillon service centers and let our professional technicians perform a thorough inspection.
Why Rotate Tires?
Your tires won't wear out as fast when you keep up to date with your regularly scheduled tire rotations. Additional benefits of rotating your tires include:
Improved traction on wet, icy, or snowy roads
Less noise on the road
Reduced stress on the drivetrain
To be better prepared for the extreme weather conditions we can experience here in Nebraska, it's important to keep tire rotations as part of your maintenance plan. Unfortunately, tires don't last forever, so if you need a new set stop by the Sid Dillon dealership near you.
Get More Tire Advice From Sid Dillon
For more information regarding tire care, oil changes, or any other auto maintenance, warranty or repair issue, feel free to contact us today. Our certified technicians are happy to help answer your questions and make sure that your car, truck, or SUV is always running safely in top condition. Want to continue your research online? Find out how to reset a faulty TPMS light.
More Auto Service Tips From Sid Dillon
Buying used car is scary. You never know if you're going to end up with something wonderful that will make your Lincoln commute a delight, or a nightmare vehicle that's worth half what you thought because of unseen damage. Fortunately, there are ways to find out if your current vehicle or a vehicle you're interested…

Nebraska workers from Lincoln to Omaha count on big trucks like the Chevy Silverado 1500 and Chevy Silverado 2500HD for major towing and hauling needs, but all that work leads to some body damage along the way. The auto body professionals at our Sid Dillon Body Shops are here to help you learn how to…

If you're gotten a dent on your Chevy Silverado 1500 or any other car in greater Omaha, the team at Sid Dillon auto body repair can help. Paintless dent repair is the easiest and most affordable way to get your car looking like new again. Find out how it works, and then make the trip…