Tires & Alignment Service  
Your tires are an important part of your vehicle but unfortunately, they need to be replaced and updated after normal wear and tear. Your vehicle alignment also plays a pivotal role in overall vehicle enjoyment and reducing wear on your tires. They do go hand in hand.
At Sid Dillon, our team can help with replacing your worn tires and also help vehicle alignment to help with safety and reduce the amount of time needed to replace your tires.
Sid Dillon Tire & Alignment Service
SCHEDULE MY Service – CLICK HERE
If you bring your vehicle in for routine maintenance or an oil change, it's always a good idea to have your tires and alignment checked. Our service team can check for uneven tread wear or we can even drive your vehicle to see if it pulls to one side or the other.
Our Tire & Alignment Service Includes:
Tire Inspection and Rotation
Damaged Tire Repair and Patches 
Tire Replacement Service – We carry several makes and models for all vehicle types 
Tire Balancing 
2 & 4 Wheel Alignment Check
Alignment Service
We carry most major tire brands and back our work with a 1 year/12,000 mile warranty. And our wheel alignment is standard maintenance to adjust the wheel angle to proper manufacturer specifications and done by one of our ASE Certified technicians.
Full-Service Tire & Alignment Care at Sid Dillon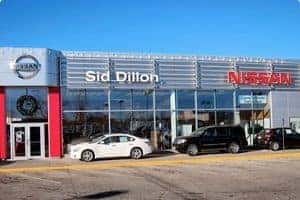 Tires are some of the important safety components on your vehicle. They grab the road whether it is dry, slippery or during rain. Making sure they perform as expected is of strict importance and we can make sure they meet your expectations.
We offer the most complete line of mechanical and auto repairs at Sid Dillon. Our team of technicians have been trained on how to properly identify potential issues with your car. We will only present the problem and recommendation for your approval before we do any work.
Our tire and alignment centers offer high-quality service and affordable prices. Plus, we can help with all regular maintenance on your vehicle!
SCHEDULE MY TIRE & ALIGNMENT SERVICE – CLICK HERE
Give us a call today to schedule your tire and alignment service – we appreciate the opportunity to serve you!