How to Lift a Truck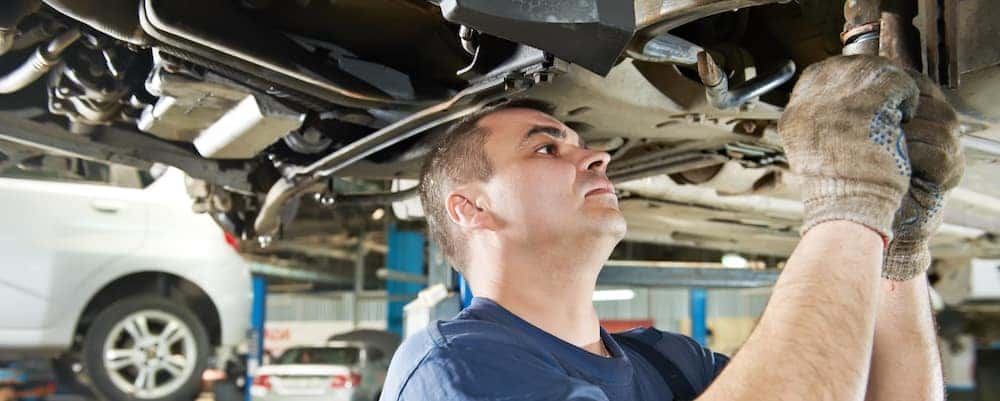 Whether you drive with Ford, Chevy, GMC, RAM, Nissan, or Toyota, we certainly understand the appeal of the lift kit. After all, this premier off-roading accessory lets you drive just about anywhere with confidence! However, because lift kits can be costly, our neighbors are always asking us about how to lift a truck at home!
Although there are important difference between suspension lift kits, body lift kits, and leveling kits, you can find out if you're up to the task with this general, introductory guide from Sid Dillon.
What Tools Do I Need to Lift a Truck?
First thing's first, here are the tools you'll need to install a lift kit:
Vehicle jacks and jack stands
Socket wrench
Torque wrench
Lug wrench
Screwdriver
It's a good idea to have a pry bar and a hammer on hand, in case there are any old parts that you have trouble removing. It's also smart to have WD-40, or the penetrating oil of your choice, to loosen tight joints. Keeping a few extra nuts and bolts around never hurt anyone either. Remember, this is just the bare minimum. If you have access to a full shop, it's a good idea to use it.
If you need any of the parts listed above, or you still haven't purchased your lift kit, you can order exactly what you need online and pick it up at the closest Sid Dillon parts department.
How Do I Lift My Truck at Home? A Step-by-Step Guide
No set of online instructions can act as a substitute for the instruction manual that was included with your lift kit when you purchased it! The steps below are designed to give you a brief overview of the process, so you can decide between DIY and professional installation for your kit.
Make sure that you've purchased a lift kit which is appropriate to your vehicle's specifications. Then, take the following steps to lift your truck at home:
Remove the negative battery cable.
Loosen the lug nuts so the tires are easier to remove when your truck is off the ground.
Use your jack and jack stands to raise the vehicle. The process will take a while, so you'll want to make sure that the vehicle's center of gravity is right where it should be.
Remove the wheels and tires and set them aside.
Remove the old U-bolts, along with your vehicle's current shocks and springs.
Attach the new bolts and, while assembling any parts according to the instructions that came with your kit, attach the new shocks and suspension.
Use your torque wrench to make sure that all pieces and bolts are tightened according to the proper specifications.
Attach your old tires, or attach a set of bigger tires that you've purchased for your vehicle.
Lower your vehicle carefully, going little by little, and keeping it as level as possible as it inches towards the ground.
Depending on the scale of your modifications, you might also need to install a longer driveshaft, a new transfer case, or some other additional components.
Your lift kit should now be installed. However, before you hit the trails out near Lincoln or Omaha, it's a good idea to schedule an inspection at your local Sid Dillon service center. A second set of eyes will help to ensure that everything went as planned. The next time somebody wonders, "How do I lift my truck?" they might even turn to you for help!
How Long Does it Take to Lift a Truck?
Now that you've seen how to lift a truck, you should make sure that you have time to finish the job! Although it's easier to install leveling kits than it is to install an off-road-ready suspension lift kit, neither job is going to be a quick one.
Trained and certified technicians can take anywhere between seven and fifteen hours installing a new kit. Even if you're a DIY service veteran, you should expect to spend at least twice that long installing a lift kit at home. Those with a lot of experience might be able to get it done in a weekend. Those who aren't very familiar with suspension systems probably shouldn't attempt the process at all.
Should I Lift My Truck at Home?
There's no way around it: Lifting a truck is a difficult, time-consuming process that requires many tools and quite a lot of patience. Since lift kits can be expensive, it can be tempting to try and avoid the cost of installation. However, if you don't have the parts you need on hand, the cost of lifting a truck might actually end up being lower if you take it to a professional.
We think it's worth repeating that, if you do decide to perform an at-home installation, you should follow your lift kit's instruction manual to a tee. Our guide is meant for those who would like a general overview of the process before they purchase a kit or try to start a lengthy and difficult installation on their own.
Get Your Truck Lifted at Sid Dillon
By now, you should have a general idea of how to lift a truck at home! However, you should know that in nine cases out of ten, it's going to be quicker, easier, and less risky to schedule service with your local Sid Dillon service center. It might even end up being cheaper!