A Certified Wahoo Body Shop.
Sid Dillon has dealerships all over Nebraska for your convenience. Each dealership has a full-service collision center with a team of specialists trained on all makes and models.
The Sid Dillon Wahoo body shop is located right off HWY 77.
The collision repair technicians who will be taking care of your vehicle are I-CAR certified and ASE certified. For our customer's peace of mind, their training is consistent and thorough, and these specific certifications keep our team at the top of their game. Technician training doesn't end after some classes- our team is training regularly throughout the year, every time a new trend hits the industry.
Consistency and education are the best ways for our technicians to keep you safe in your vehicle.
Whether you're driving an SUV, truck or sedan, you can be confident that all parts, products, and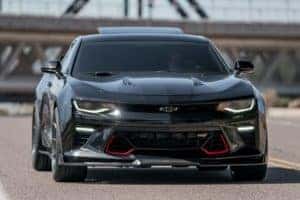 techniques used are manufacturer-approved.
We operate under the following manufacturer certifications, and many others:
Ford
Nissan
General Motors (GM)
Vehicle technology changes every single day. That is why at the Wahoo body shop location we make it a priority to keep our technicians up to date on whatever new paint products or panel materials manufacturers are engineering your vehicle with.
We have upgraded our Wahoo auto body shop tools and paint equipment to fit the current ever-changing climate of the collision repair industry. No matter what the issue may be, whether it's a fender bender or routine maintenance, we want your car looking and driving much better than it did when you arrived.
From the time you call to the estimate, to the moment we hand you back your keys, we will keep open and honest communication about the status of your repairs. We keep our prices competitive and fair and we strive to get your vehicle back to you as soon as possible. If the repair ends up taking a few days, we will happily give you a loaner car, as long as you can provide our front desk at the Wahoo body shop a valid driver's license and insurance.
To summarize what our state-of-the-art Wahoo Body Shop offers:
Our team at the Sid Dillon Ford Wahoo collision center can't wait to do business with you. Call us at 402-443-4244 to make an appointment or fill out our online form with any questions you may have.
Thank you for the opportunity to fix your vehicle!