How Paintless Dent Repair Works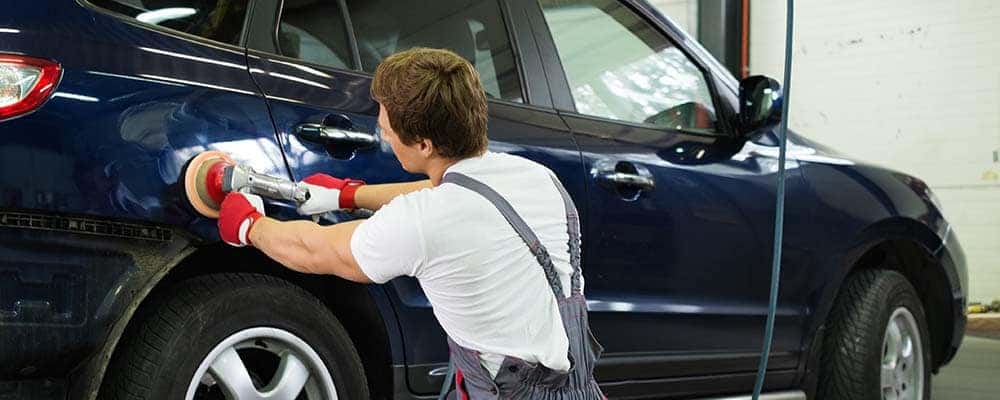 If you're gotten a dent on your Chevy Silverado 1500 or any other car in greater Omaha, the team at Sid Dillon auto body repair can help. Paintless dent repair is the easiest and most affordable way to get your car looking like new again. Find out how it works, and then make the trip to one of our auto body repair shops to get paintless dent repair performed on your model. This is one of the most widely used methods for hail damage repair and is usually the best option and quickest.
Paintless Dent Repair Tools
You can find cheap paintless dent repair tools at local stores around Fremont, but the expert auto body technicians at Sid Dillon use special tools to massage the exterior to its original position using highly skilled techniques.
Paintless Dent Repair Steps
At Sid Dillon auto body shops, our experts auto body technicians are committed to bringing your vehicle back to like-new condition. In order to do that, we follow a meticulous process, which includes:
Damage Assessment: The first thing we do when we check out your car for paintless dent repair is assess the damage based on the location of the dent, size of the dent, how easy it is to access, and whether paintless dent repair is an option for the particular kind of dent.
Access the Dent: In order to perform paintless dent repair, we usually have to have access to the back side of the dent. In order to do this, we usually have to remove panels, lights, and/or cases.
Closer Look: In order to make a professional assessment of the dent, we use advanced imaging tools to view the shadows of the dent to figure out exactly where to apply pressure.
Remove Dent: Next, we use a special tool to slowly massage the dent out from the inside until it returns to its original position.
What Does Paintless Dent Repair Cost?
Paintless dent repair cost varies depending on the size and location of the dent. In general, though, clients can expect so spend somewhere around $75-125 for a single dent.
Get Paintless Dent Repair Service Near Lincoln at a Sid Dillon Body Shop Near You
Get all of your auto body repairs and car detailing taken care of in the Fremont, Lincoln, or Omaha areas at your local Sid Dillon dealership. If your vehicle requires routine maintenance, such as a tire rotation or routine oil change, or if you require repair service, we can help. We can also teach how to reset your tire pressure light or take care of other necessary services at home! Please contact us if you have any questions. We also have details on bumper repair.
More Car Maintenance Tips
Buying used car is scary. You never know if you're going to end up with something wonderful that will make your Lincoln commute a delight, or a nightmare vehicle that's worth half what you thought because of unseen damage. Fortunately, there are ways to find out if your current vehicle or a vehicle you're interested…

Nebraska workers from Lincoln to Omaha count on big trucks like the Chevy Silverado 1500 and Chevy Silverado 2500HD for major towing and hauling needs, but all that work leads to some body damage along the way. The auto body professionals at our Sid Dillon Body Shops are here to help you learn how to…

If you're gotten a dent on your Chevy Silverado 1500 or any other car in greater Omaha, the team at Sid Dillon auto body repair can help. Paintless dent repair is the easiest and most affordable way to get your car looking like new again. Find out how it works, and then make the trip…